Spoilers & News > News > Akame Ga Kiru! Manga Gets Anime Adaptation
Akame Ga Kiru! Manga Gets Anime Adaptation
01.20.2014 16:53
Akame ga Kiru! Manga:
http://www.mangahere.com/manga/akame_ga_kiru/
Related Manga: Akame ga Kiru! Zero:
http://www.mangahere.com/manga/akame_ga_kiru_zero/
The dark action fantasy manga Akame ga Kiru! gets a TV anime adaptation, announced by the February issue of Gangan Joker magazine.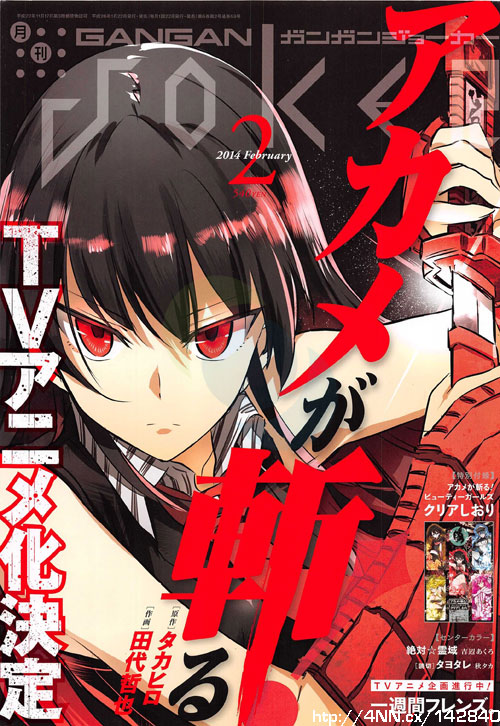 Akame ga Kiru! manga follows by Tatsumi, a fighter who sets off to the Capital in search of a way to make money to assist his poverty-stricken village in order to discover the deep corruption. He is taken in by a noble aristocratic girl by the name of Aria and recruited by Night Raid, a group of assassins who aim to eliminate corruption by mercilessly killing those responsible for it.
Akame ga Kiru! (アカメが斬る! ) is a Japanese shounen manga series written by Takahiro, illustrated by Tetsuya Tashiro, and serialised within the Weekly Gangan Joker published by Square Enix from 2010. A prequel manga by the title of Akame ga Kiru! Zero began serialisation within the Monthly Big Gangan in October 2013.