Spoilers & News > News > Akame ga Kiru TV Anime Staff Revealed
Akame ga Kiru TV Anime Staff Revealed
05.20.2014 15:50
Akame ga Kiru Manga:
http://www.mangahere.co/manga/akame_ga_kiru/


It's announcing on Square Enix's Gangan Joker magazine for Akame ga Kiru manga's supporting cast and staff on Tuesday.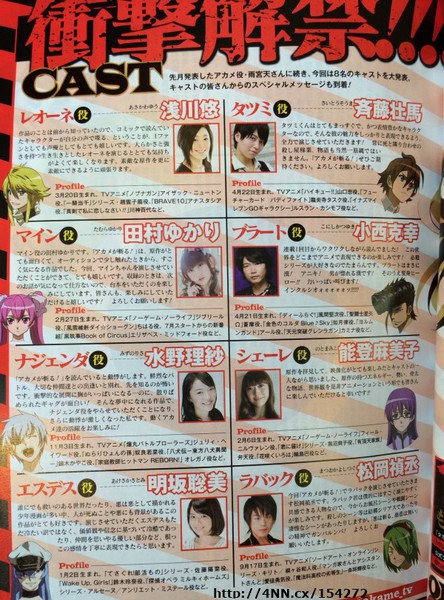 [Staff]
Director: Tomoki Kobayashi
Series Composition: Makoto Uezu
Music: Taku Iwasaki
Original creator:Takahiro,Tetsuya Tashiro
Character Design: Kazuhisa Nakamura
Art Director: Yoshito Takamine
Sound Director: Hozumi Gôda
Director of Photography: Keisuke Nakamura
3D Modeling Director: Hiroshi Souma
Color design: Miyuki Sato
Editing: Masahiro Goto
Scenario Director: Takahiro
Theme Song Performance:Miku Sawai (ED),Sora Amamiya (OP)


[Cast]
Sora Amamiya as Akame
Katsuyuki Konishi as Braht
Mamiko Noto as Schere
Risa Mizuno as Najenda
Sōma Saitō as Tashimi
Yukari Tamura as Mein
Yuu Asakawa as Leone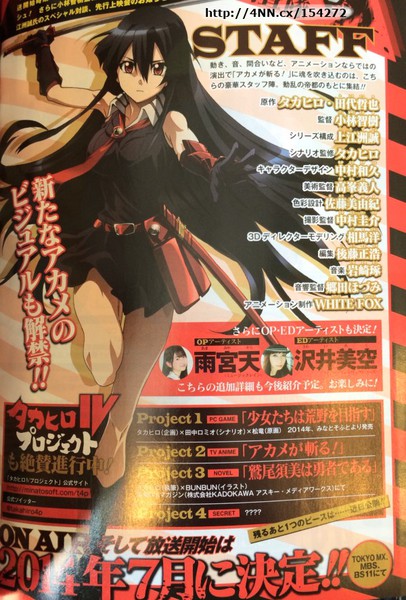 This manga tells a story of Akame, a fighter who just got robbed by a pretty girl, but his luck seems to be looking up, as another pretty girl has taken him in. What he doesn't know is that this girl is about to be visited by a family of assassins (including the girl who robbed him) and they might be the good guys, and be recruiting...
The anime will be aired in 2014-07.