Spoilers & News > News > Kuroko no Basket Manga to Start Sequel Series in December
Kuroko no Basket Manga to Start Sequel Series in December
10.09.2014 17:22
Kuroko no Basket
http://www.mangahere.co/manga/kuroko_no_basket/


It is annoucing on Tuesday that Fujimaki Tadatoshi will launch the sequel manga of Kuroko no Basket on December 29 in the Shueisha's Jump Next magazine. The new manga futures a color opening page and arts on the magazine's cover.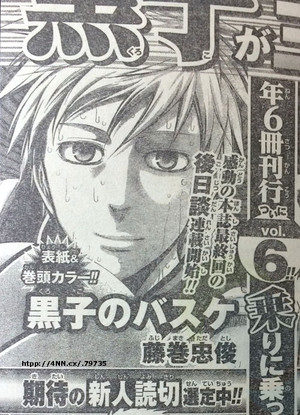 Fujimaki Tadatoshi lanched the main manga in Weekly Shouen Jump from 2008, and has ended it this Sep.1st. Shueisha will release the 30th and the final volume in December.

Kuroko no Basket has inspired 3 anime series. The first one premiered from April to September in 2012. And the second season ran from last October to March. The third season will premiere in the next year but the exact month hasn't been announced.