Spoilers & News > News > Marvel Comics to Offer Shingeki no Kyojin Crossover on Free Comic Book Day
Marvel Comics to Offer Shingeki no Kyojin Crossover on Free Comic Book Day
01.21.2015 16:56
Shingeki no Kyojin Manga:
http://www.mangahere.co/manga/shingeki_no_kyojin/
Marvel Comics announced in the live "Secret Wars" presentation that Shingeki no Kyojin(Attack on Titan) and Marvel crossover will be available in their 2015 Free Comic Book Day, offering of Secret Wars #0.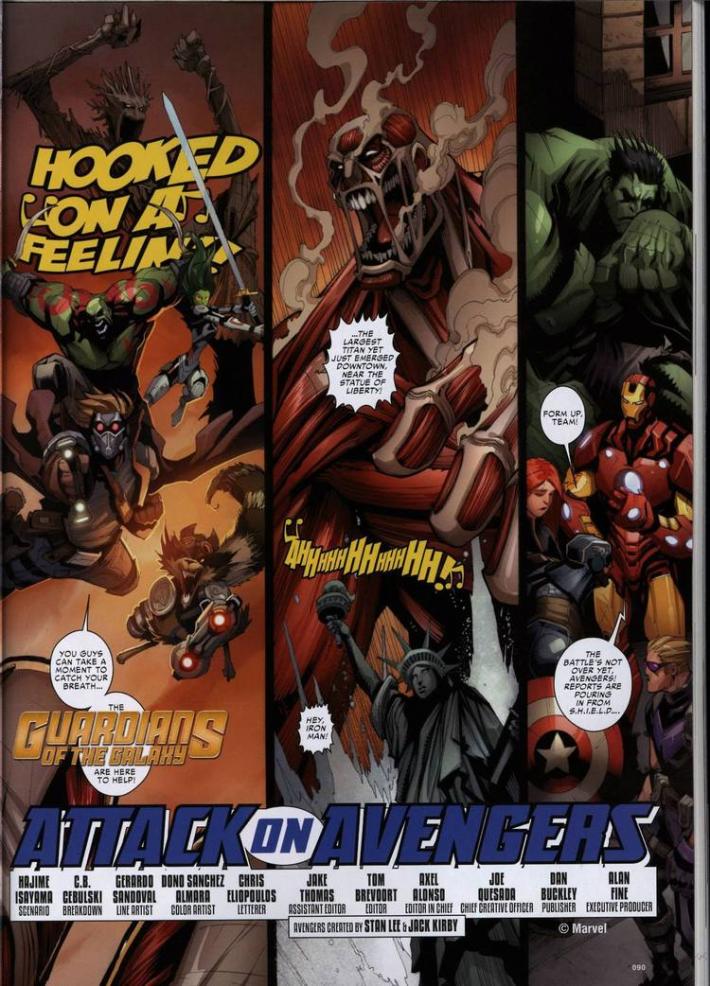 The Avengers and Guardians of Galaxy battle the Female Titan, Armored Titan and others on the streets of New York City in the Magazine Brutus's one-shot in November. Hajime Isayama, the original manga creator, created the plot of this comic.
The full staff includes:
Scenario: Hajime Isayama
Breakdown: C.B. Cebulski
Line Artist: Gerardo Sandoval
Color Artist: Dono Sanchez Almara
Assistant Editor: Jake Thomas
Editor: Tom Brevoort
Editor in Chief: Axel Alonso
Chief Creative Officer: Joe Quesada
Publisher: Dan Buckley
Executive Producer: Alan Fine
The Free Comic Book Day promo event is scheduled to be held on Saturday, May 2. The visitor can get Free Comic Book Day sampler with Attack on Titan, Fairy Tail, The Seven Deadly Sins, Noragami, and more. There are also others publishers in the Free Comic Book Day, including Viz Media (JoJo's Bizarre Adventure, Yu-Gi-Oh!, Pokémon) and Udon Books (Street Fighter Super Combo Special).
Related News:
http://www.mangahere.co/news/shingeki-no-kyojin-manga-to-get-crossover-with-marvel-comics/