Spoilers & News > One Piece Spoilers > One Piece 849 spoiler[MH Confirmed][Predictions & Discussions]
One Piece 849 spoiler[MH Confirmed][Predictions & Discussions]
12.02.2016 11:18
One Piece 849 Spoilers!!! One Piece 849 Prediction and Discussions!!!
One Piece 848has been released now!!! Read it now!!!
One Piece 849 Spoilers:
source: Shitaraba
trans: sandman
Chapter title is Chobro in Mirror World.
In the cover page, protagonists in other Shonen Jump mangas wear ONE PIECE characters' costumes.
Brulee's house
Carrot is about to be thrown into a furnace, but actually it is not real Carrot. It is a frog whose shape is the same as Carrot somehow (Brulee's DF?).
Real Carrot is hiding in an attic. Carrot makes a sneaking attack and saves the frog. She turns over the furnace.
Brulee is shouting due to the hot water. Randolph gets an electrical shock due to the hot water attacked by Carrot's Electro.
Chopper goes on a rampage via Brain Point and Ramble Ball. They finally take control of Mirror World.
Sanji's room
Sanji cooks a dish for Pudding, who was not in a good mood.
Treasure Room
Big Mom shows up in front of Brook, who gets hold of the key from military guard
courtyard
Pedro confronts with Tamago. Pedro's 50 years' life span was taken by Big Mom when he was captured 5 years ago.
Castle
Reiju is heading for somewhere with her body/face full of blood.
---Spoilers End---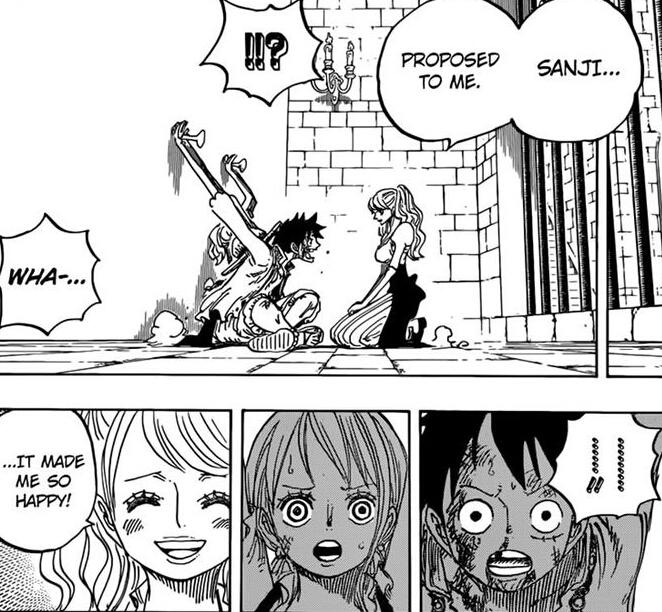 One Piece 848Spoiler Trivia:
Brook is the only known person to have a wanted poster that is not formatted in the uniform style.
If you would like to discuss the Spoilers or predictions, please leave a comment below. Your Feedback is Greatly Appreciated, but NO SPAM here is more expecting and also for our benefits. Thanks for your support.